Honolulu Oahu, HI Porcelain Veneers
Porcelain veneers can completely change the appearance of your smile. If you have discolored, worn down, cracked and chipped teeth, have gaps between your teeth then porcelain veneers may be the solution for you. They can be completed in as few as two visits and are one of Dr. Okuda's favorite restorations for his smile makeovers. They can be as thin as contact lenses are extremely strong when properly bonded to a tooth. There are several types of ceramic veneers available and Dr. Okuda will select the type that best fits your needs.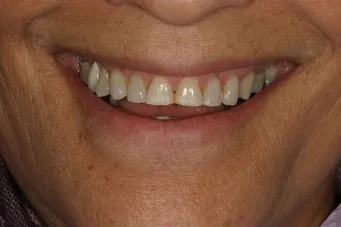 Veneers are one of the more conservative approaches to change the appearance of the teeth because a smaller amount of enamel is removed compared to full crowns. There are also composite veneers that require the least amount of tooth removal. These can be wonderful option for certain people and situations but composite resin may tend to stain and discolor over time compared to ceramic porcelain veneers which can hold their color and are very resistant to staining. Dr. Okuda will let you know what type works best for your situation.
Although porcelain veneers are incredibly strong with proper bonding and preparation, they are still susceptible to cracking, just like even super strong glass can crack with enough pressure. So common sense prevails when somebody gets porcelain veneers. For example, biting the meat off of ribs, cracking nuts with the front teeth, or chewing on ice are things that can increase the chance of breakage. And proper design of the bite will have a huge impact on the longevity of veneers. Dr. Okuda's clients typically have veneers last far beyond the average lifespan because of his attention to the chewing system, proper preparation and material selection.
If you want a master porcelain veneer dentist to evaluate you to see if veneers are right for you, contact the office for a complimentary consultation.
For more information on Porcelain Veneers in Honolulu Oahu, HI call Wynn H. Okuda DMD, Inc.