In their own words.....
Read and see what Dr. Okuda's patients have to say about their beautiful smiles and their overall dental experience at the Dental Day Spa of Hawaii!
---
"A POWERFUL TESTIMONY: Don't wait too long or you Will loose your teeth"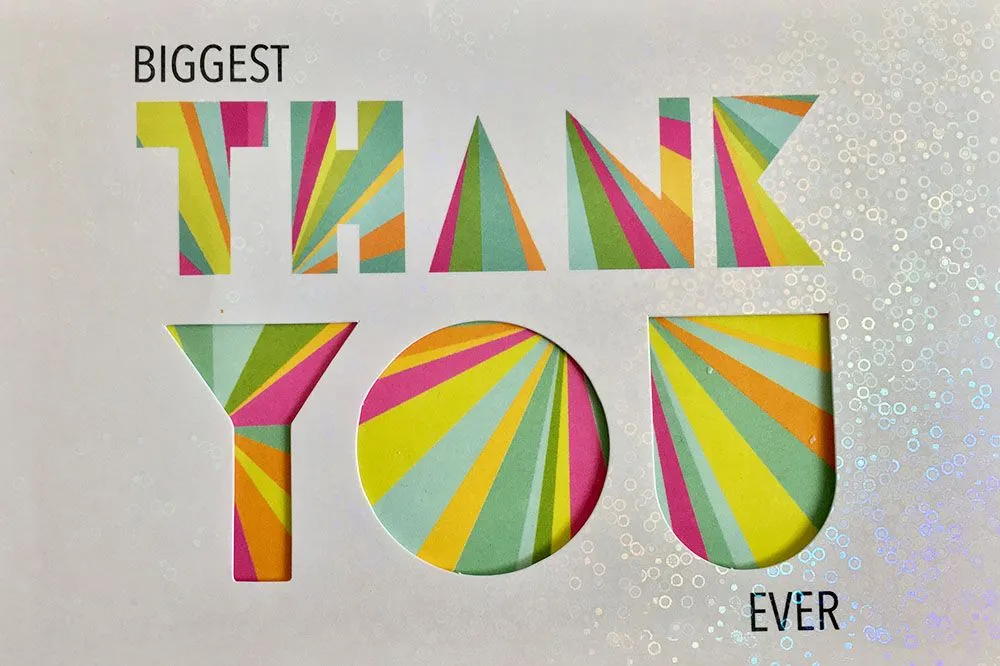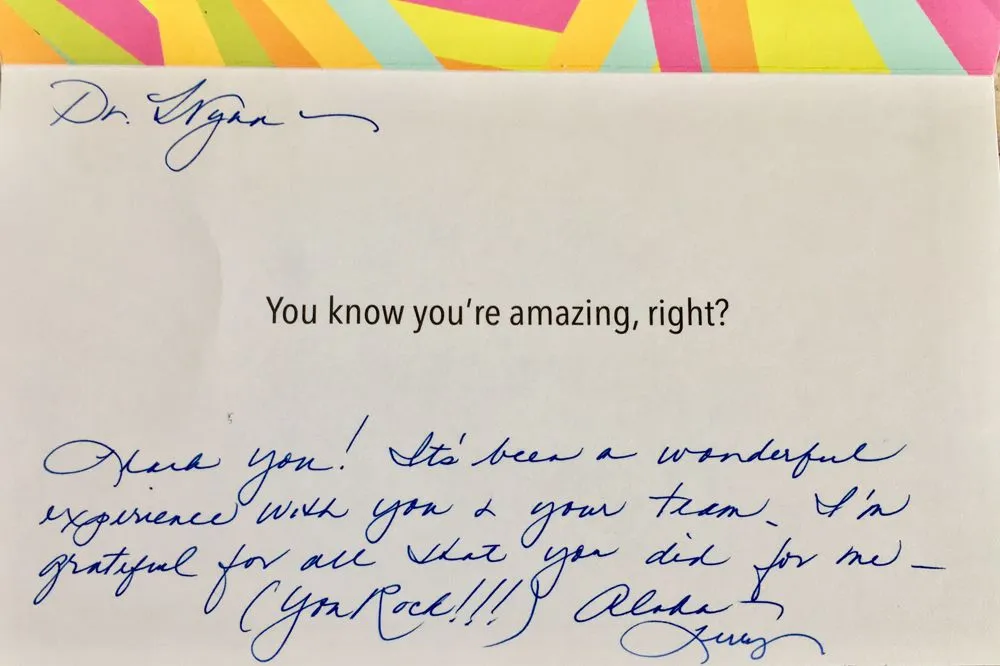 ---
---
---
Office is impeccably clean. It's like walking in at a magazine image dental office, the staff is very attentive and courteous with a smile. The foot massage is fantastic. It sure took away the discomfort of my mouth wide open for 8 hours. The Valium did a good trick on my anxiety. The numbing medicine did a number because I could not swallow the chicken pho that was served. Dr. Wynn Okuda is superb and outstanding. He did a great job. Now, I have a million dollars smile. Too bad Covid is here; I can't show off my beautiful teeth. Mahalo, everyone, for taking good care of me. I feel like a celebrity.
- Elsa T.
---
There aren't words to express how amazing the staff and Dr. Okuda are. Not only the best work but experience was beyond words. Absolutely go see this phenomenal team!!
- Melissa S.
---
After doing an extensive amount of due-diligence around this state, it was definitely a NO BRAINER to come to visit thee one and ONLY..
Things are settling down! Thanks for talking me off the ledge.. it's so hard to adjust to watching the dentistry they do around here.. but I just turn my head and do my job! Hope today is a great day!! Thanks for all the love and support always.
- Julie
---
After doing an extensive amount of due-diligence around this state, it was definitely a NO BRAINER to come to visit thee one and ONLY..
What can I say about Dr. Okuda! He is the best dentist I've ever had the privilege of meeting. His professionalism , skill and knowledge is beyond anything else. What I like most about Dr. Okuda is the care he has and shows towards his patients. He sincerely cares about how the patient feels and thinks about the outcome and that makes me feel very good and at ease. Some doctors are completely oblivious of what the patient is feeling or thinking, and act annoyed when you question them. Dr. Okuda is the complete opposite and has a patient first attitude. The amount of time he spends to consult and explain the treatment process with each patient is absolutely amazing. I've been to many " good dentists" over the years, but none compares to Dr. Okuda. Finally, his staff is phenomenal. They are all so kind and caring. They always greet me with a smile and when I need to see the doctor on a short notice, they do everything to accommodate my needs. I used to dread going to the dentist, but when I go to Dr. Okuda's office, I feel very comfortable and relaxed. I am so lucky to have found him. Thank you so much for my beautiful smile. I am so so happy and pleased!!
- Sandy Ohyama
---
Dear Dr. Okuda,
After doing an extensive amount of due-diligence around this state, it was definitely a NO BRAINER to come to visit thee one and ONLY..
Dr Wynn H. Okuda is by far thee BEST in this era of practice. His staff is top notch which reflects Dr Wynn's leadership, techniques and knowledge. I'm glad I've made the decision to get this procedure done which filtered into a 2 day visit vs 4-5yrs of a humiliating process if done elsewhere. ALL the credit goes to my LOVELY wife Shelly who steered me in the right direction, I'm a 100% percent BELIEVER in Dr Wynn H. Okuda and his amazing staff, and would definitely do it ALL over again
Btw my wife is up next
---
Dear Dr. Okuda,

During my visit with you the other day, I realized I had not taken the time to tell you how well I believed my beautiful new teeth turned out. They are not only beautiful but the change in my bite and structure of my mouth is also appreciated.
During my visits and appointments, I have seen a great amount of sensitivity and kindness within you. I see someone who has personal knowledge of life and aspects of it that I believe speak to the human soul.
On a professional level, your care, expertise. and knowledge are the "best of the best". Thank you for your understanding, sensitivity, expertise, elegant surroundings, lovely lei and of course my beautiful teeth. Every single staff member treated me with great kindness and care. Thank them all so much from me. Thank you!!
Your staff and you are all wonderful. Thank you again and I apologize for being so late in sending you my many thanks and warmest aloha to you all.
S
---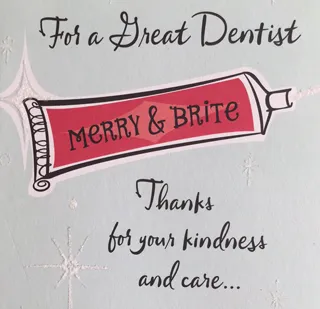 Dear Dr. Okuda & Staff,
Thank you very much for giving me a beautiful smile! It was a long journey but worth it. Thanks to your wonderful staff -- so caring, kind and compassionate. Dr. Okuda, you are the best! I'm so happy I chose you to work on my teeth. You are amazing!!
Happy Holidays!
With deep gratitude always,
M
---
Dear Dr. Okuda and Staff,
My heart overflows with gratitude as I enthusiastically express my deepest appreciation to Dr. Wynn Okuda and his talented team of professionals who have given me that which I have longed for my whole life…. a breathtakingly beautiful smile. I finally can truly say that my smile has become the source of my joy.
Becoming a patient of Dr. Okuda was one of the best decisions of my life. Never once have I experienced any pain or discomfort while in the patient's chair. With every visit I feel like I am giving myself a gift.
From my very first consultation, right through into my final visit, Dr. Okuda ensured that I understood what to expect. The temporary veneers Dr. Okuda crafted during the course of my treatment were so lifelike that even my orthodontist was impressed! I felt valued as a participant in my care, and as I was fitted with my permanent veneers…. perfect in every way… I felt proud of my smile we had together created.
Not a day goes by that I don't receive a glowing compliment on my smile. I cannot overemphasize what the work done by Dr. Okuda and his assistants have meant to me and how fully it has transformed my life. Put most simply, with my new smile, I feel like a new person. In a broader sense, regaining my smile has transformed my life in many other profound ways. Renewing my smile has given me a new lease on life.
For the first time in my life, I can most candidly share my most intimate secret that my smile, which was so long a source of self-consciousness and embarrassment, is finally a part of me that I am proud to share with the world. When I smile, I feel as though my soul opens up and the womanIam finally matches what the world sees. I have Dr. Okuda to thank for this life transformation, though "thank you" can never fully capture the depth of gratitude I feel for what they have gifted me.
The next chapter of my life is filled with promise. With my new smile, I can go anywhere and connect with anyone. I live day-to-day and connect with others, all the while with so much gratitude and a forever smile, that welcomes, that loves, that lives and thrives as a human becoming.
With Profound Gratitude Always,
-SO
---
Dear Dr. Okuda and Staff,
After I injured a front tooth playing football, it continued to worsen over the years. I knew I had to do something. I researched all of the cosmetic dentists in town and I realized there was only one dentist who, not only had the experience, expertise, and skills to help me, but more importantly, also possessed a truly artistic gift. Thank you, Dr. Okuda for everything. You and your *amazing* staff have been a joy to work with!
S.C.
---
Dearest Dr. Wynn & Staff,

Thanks for being the very best dentist out there. I love your staff -- they are all very caring and so very compassionate with kindness. Mahalo to all of you for being so special. Love all of you, Thanks for caring. God Bless you all.
Much Aloha and Love, from a very Grateful Aloha Heart!
MM
---
Dear Dr. Okuda and Staff,
Thank you very much for pampering me throughout my treatment! I love all
of you!
Thank you,
AW
---
Dr. Okuda,
Thank you so much for taking me in and giving me a smile I've only dreamed of. It's truly a miracle what you've done for me and I really appreciate your excellent care and beautiful craftsmanship. I have noticed a dramatic difference in my smile and am overjoyed. I'm really excited to see the permanents. I'm forever grateful for you and your staff, and thank God for sending me to you.
Love Always,
A.S.
---
Dear Dr. Okuda,
Many, many thanks for correcting and matching my two front teeth which I cracked while eating a popsicle, and another dentist had difficulty in matching.
You did an excellent job for me and the match is now perfect. I am so very, very grateful. Mahalo and God bless you for your kindness and excellent service.
Gratefully, AM
---
Dear Dr. Okuda,
Thank you for giving me back my two front teeth. I appreciate your taking me and giving me my amazing (due to you) smile back. I don't know how I got so lucky. You are amazing!
Thank you!
Sincerely,
SC
---
Dear Dr. Okuda,
Thank you for taking care of my teeth! Thank you to the wonderful staff that greets me with beautiful smiles and warm hugs. Thank you for everything!
<3 JW
From D.P.
---
---
From R.S.
Aloha Dr. Okuda, Julie and everyone else at the office,
I just wanted to thank you for the lovely gift basket and before & after photos. It was very much appreciated.
I wish you all a joyful & peaceful holiday season and I look forward to seeing you in March.
Mahalo ♥
Ranaella
---
From Dr. A.F. for daughter A.F.
---
From Dr. Robert Flowers
From J.F.
---
From L.B.
---
Dear Dr. Okuda and Staff,
I would like to especially thank Dr. Okuda for his excellent & fabulous work on my teeth. I truly appreciate it. Thank you so much, Dr. Okuda.
I also want to thank the staff. Each time whenever I needed help and during my visits to the office, all of you have taken such great care of me. Thank you.
Thank you for the special photo session and the picture. I feel very special. Wow!
Thank you for making me feel so wonderfully special and happy!!
Aloha and mahalo to all,
Li-Ling
---
From C.G.
Dear Wynn,
Thank you so very much for all of your help!
Your care and compassion for all of us is much appreciated. You went out of your way to fit me in and perform extremely difficult dental surgery, and, I am indebted to you!
Sincerely,
Charles
---
From M.K.
---